My niece Ruby turned 6 recently, and we celebrated with a rainbow butterfly party. The decorations and party things (cups, napkins) were all rainbow or butterfly-themed.
The party guests (family and friends) were encouraged to wear rainbows or butterflies. Jac stuck butterflies onto the backs of our jackets and we each wore rainbow T-shirt like good daggy aunties. Others wore rainbow necklaces, scarves and socks. Ruby was delighted, especially when Uncle Mike wriggled his rainbowy toes at her.
As usual, the party food was supplied by family and friends. Sausage rolls (meat ones and vegetarian ones), super sticky honey joys, lemon slice, chipolatas (chicken, pork and beef) with tomato and barbecue dipping sauces, fairy bread, a rainbow fruit platter, my mum's pork wantans with chilli sauce, and a gooey baked cheese – this time, a Camembert.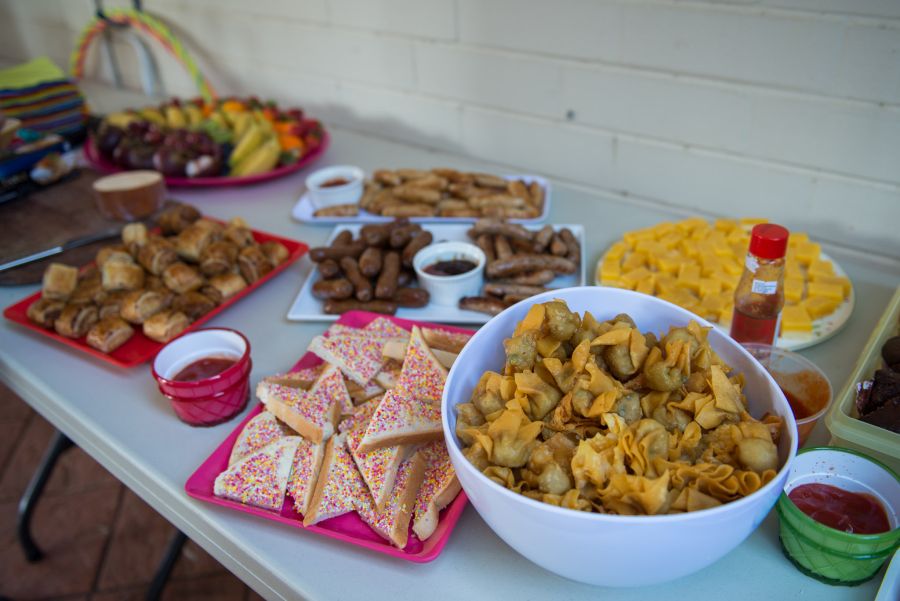 Baked Camembert or Brie is fast becoming a staple at our family get-togethers. The cheese is studded with fresh garlic, sprinkled with rosemary and drizzled with olive oil, then baked in the oven until it's melted and gooey.
My mum turned up with a big bowl of her homemade pork wantans. These, and the meat sausage rolls were easily the most popular party food items. I'd love to know how many wantans I could eat if I had that bowl all to myself. How many do you think you could eat?
Temporary tattoos were a must-have accessory at this party – rainbow and butterfly tattoos, of course.
The face-painting booth did a roaring day's trade. The birthday girl requested (surprise, surprise!) a butterfly.
The kids coloured in their goodie bags.
Whenever there's a party, my brother twists balloons for the kids. No matter how many balloon dogs his dad's made for him, Caleb is mesmerised by the process – the pumping of the balloon and the twisting and tying that follows.
And when he has that finished balloon dog in his hands, he's absolutely thrilled to bits.
Zoe, with a war-painted butterfly face, asked her dad to make her a flower, which she brandished like a sword. Did you notice she's wearing the ballerina dress from her birthday earlier this year?
Ruby didn't have a birthday cake – she had lots of rainbow butterfly birthday cupcakes.
Ruby's dad lifted her up so she could blow out her birthday candles. Note: she's still clutching a wantan in one hand.
As soon as the candles were out, eager kids (little and big) swooped in to claim a cupcake. We pretty much destroyed all the cupcakes.
Juji and I found ourselves unexpectedly leading a boisterous game involving kids on the gazebo pretending to be animals. It was a noisy menagerie of chickens, ducks, horses, elephants, snakes, frogs, giraffes and rabbits. Have you heard a duck giggle and quack at the same time? I have!
'Pass the parcel' was a little more challenging for some participants – once the kids learned they'd win a prize if they were holding the parcel when the music stopped, the parcel moved much more slowly and reluctantly around the circle! Hair clips for the girls and cars for the boys (everyone was happy, but if I'd been playing, I'd have wanted a car).
I love taking photographs at our parties. Like many photographers, I don't like being photographed myself and am much happier behind the lens than in front of it. Once in a while, I do think about the fact that there are very few photos of me. The photographs represent not what I look like, but my observations and what was significant in my life. What do photographs tell you about the photographer?
Happy birthday, Ruby!
Facebook comments
comments