In my previous post, I told you about the cowboys portion of the wild horses, cowboys and western photography workshop I attended in Wyoming last year. This post is about the other half of the workshop, the wild horses.
Cody Cowboy Village
We stayed at Cody Cowboy Village, driving out to the McCullough Peaks wild horse range every day at dawn and early evening.
Our cabins were air-conditioned with king size beds, TV and free wifi. Some may say it's kitschy, but I loved the cowboy/western themed decor.
Wild horses, McCullough Peaks
We met up each morning at 5am to drive out to the wild horse range to take photographs. When the light got too 'crispy', we returned to downtown Cody for breakfast. We returned each evening after early dinner to take more photos before last light.
Our workshop leaders, photographers Jess and Tamara are experienced guides, extremely knowledgeable about horses and the behaviour of the mustang herd. They navigated our group through the scrub and bumpy trails to locate the herd, which was in a different part of the range each time, either grazing, sleeping, or gathered at a watering hole. Tamara had an amazing eye and spotted the tiny specks in the distance way before I ever did. I marvelled at how we never got lost in the open range with minimal landmarks (well, that's how it appeared to my untrained eye). We'd park the vehicle a distance away, grab whatever photography equipment we needed, and approach the horses on foot. For safety reasons, we didn't get too close to them and stayed alert, ready to retreat if necessary to avoid danger. When the herd decided to move on, it was usually time to head back to our vehicle. I used both of my zooms, 18-55mm and 55-200mm. I'd have loved an even longer lens to get even closer, but I'm waiting on Fujifilm to release one for my camera.
I don't know much about horses; I have never ridden a horse, and to be honest, have no desire to. But it was wonderful being here to observe and photograph these beautiful wild creatures just being themselves.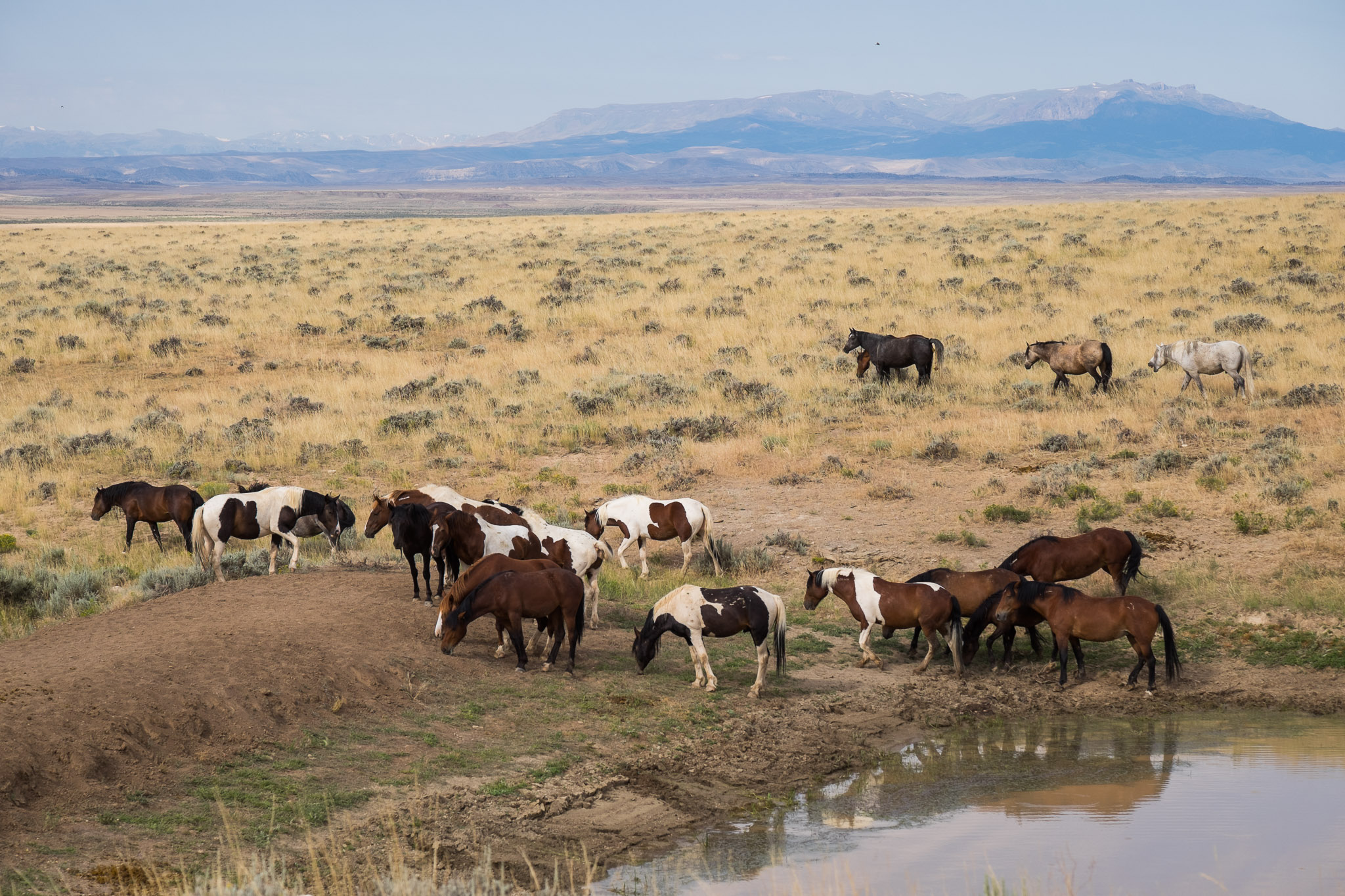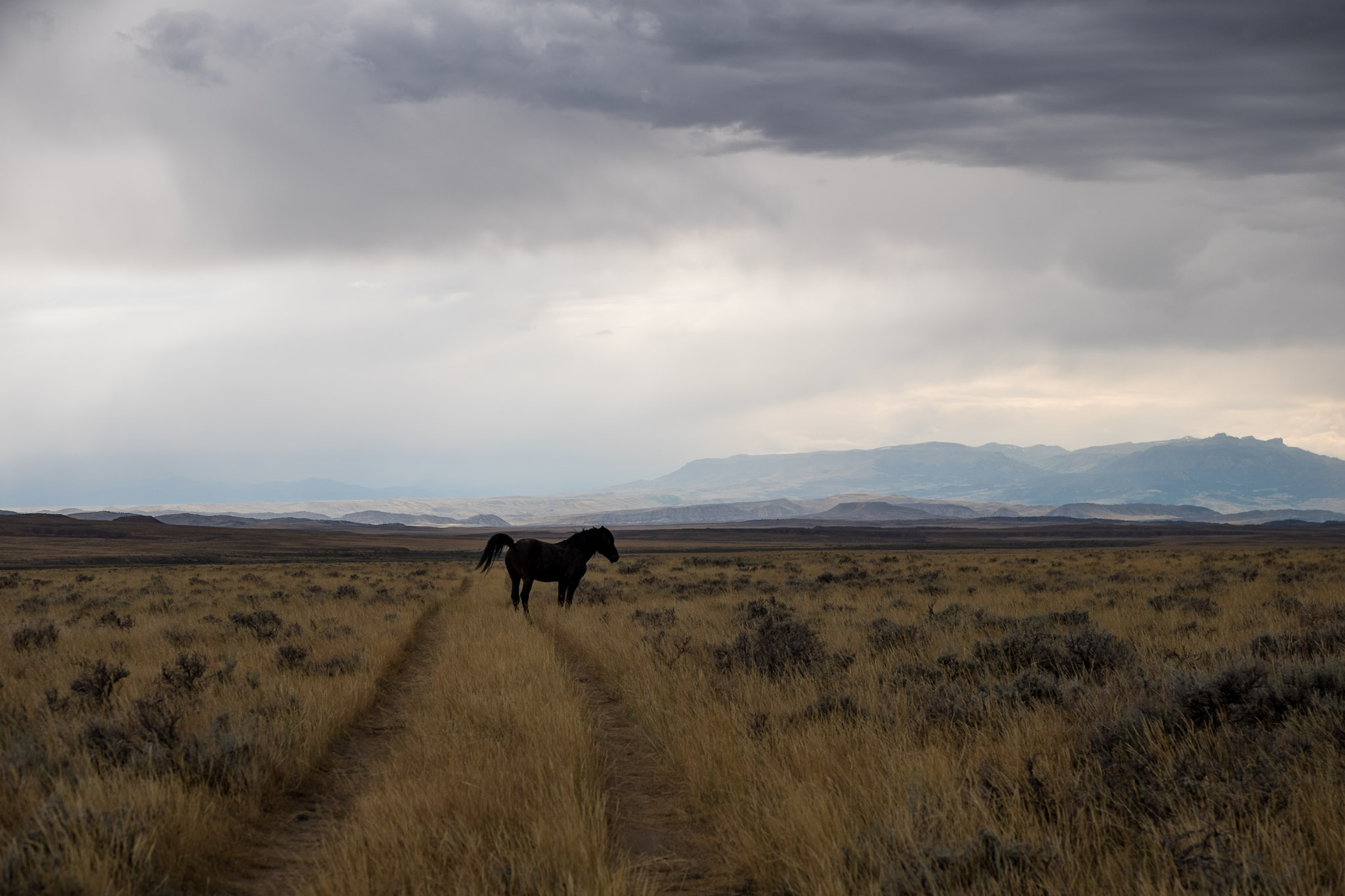 Dining out in Cody, Wyoming
I stocked up on muesli bars (the kind with rolled oats and honey) to snack on in the morning so I wouldn't get too hungry out on the range before we got back for our first meal of the day.
We tried quite a few Cody restaurants during our stay. We dined as a group but as meals weren't included in the workshop cost, we paid for our meals individually.
It was just after 11am. "Are you serving breakfast or lunch?" I asked our server. "Anything you like" was the answer as she poured the coffee. And so, my final meal in Cody was a fried chicken dinner with peas and mashed potatoes (topped with a layer of country gravy) – at Granny's. The chicken was popping hot with super crispy batter, really delicious. The gravy and creamy mashed potatoes were great too. The peas were somewhat overdone but let's face it, I didn't order the chicken dinner for the peas.
Wyoming Cowboys, Wild Horses and Western Photography workshop
The workshop was run by Jess Lee and Tamara Gooch. The 2014 tour was from 1 to 8 August (the dates vary year to year).
The cost was US$2995 plus $350 single supplement which covered guiding, ground transfers and accommodation. Meals were not included in the cost.
For the cowboys portion of the workshop, we stayed at:
K Bar Z Guest Ranch & Outfitters
Shoshone National Forest, next to Yellowstone National Park, Wyoming USA
We took photographs of the cowboys and cowgirls in action at K Bar Z and surrounding properties.
For the wild horses portion of the workshop, we stayed at:
Cody Cowboy Village
203 W Yellowstone Ave
Cody, Wyoming USA
We drove out to the McCullough Peaks Wild Horse Herd Management Area to photograph the wild horses each day.
Cody Restaurants
The Irma Hotel
1192 Sheridan Avenue, Cody, Wyoming USA
Bubba's Bar-B-Que Restaurant
512 Yellowstone Avenue, Cody, Wyoming USA
Zapata's
1362 Sheridan Avenue, Cody, Wyoming USA
Adriano's Italian Restaurant
1244 Sheridan Avenue, Cody, Wyoming USA
Sunset House Restaurant
1651 8th Street, Cody, Wyoming USA
Granny's Restaurant
1550 Sheridan Ave, Cody, Wyoming USA
My solo USA trip (2014) – about this series
I travelled alone to the United States from late July to mid-August. This trip covered California, Wyoming and Colorado. The primary reason for the trip was to attend a couple of workshops, one on hot air balloon photography and the other on photographing wild horses and cowboys. I also caught up with an old school friend.
Facebook comments
comments