Months ago, when planning our New Zealand trip I found The Big Foody Tastebud Tour and thought it looked like a fun way to experience Auckland. I booked Jac and me on a tour for our first day in Auckland.
As it happened, the World Triathlon series which is held in 8 cities across the world kicked off in Auckland this year on the very weekend our tour was booked for. A number of roads across downtown Auckland were closed for the triathlon, so our tour guide, The Big Foody herself Elle, adapted the tour route to avoid complications from closed streets. This meant our tour included different stops to what was originally planned (some were not accessible by car on the day), but to be honest, if Elle hadn't mentioned anything about having to change the route, we wouldn't even have noticed.
This post and these images provide a taste (hah) of what we did on our tour. Please note that tour routes are subject to change even without triathlons, so if you do book a Tastebud tour, it may not exactly match what we did on ours. As we discovered during our stay in Auckland, it's a great city for food lovers and it makes sense that the tours change to take into account seasonality and what's available, local events and new food businesses and producers.
Elle promised we'd eat throughout the tour, and she wasn't kidding. At our first stop, Parnell Farmers Market, stallholders were happy to chat and give us a taste of their wares: we sampled kumara loaf, grilled farmhouse bacon and mushrooms dripping with juices fresh off the grill, lemon-infused extra virgin olive oil, creamy smoked handmade Brie cheese, roasted macadamias (Jac bought a bagful and munched on them throughout the trip), feta and lemon butter.
We have blue and purple spuds at home; I've never seen potatoes quite so black.
From Parnell, we drove to the top of Mount Eden (Maori name "Maungawhau"), the highest volcano in Auckland, at 196 metres.
Elle pointed out landmarks as we took in the spectacular panoramic view.
The Mount Eden volcano is dormant, having last erupted many thousands of years ago, so we felt pretty safe peering into the 50-meter grassy crater.
Imagine taking the dog for a walk daily in this beautiful setting.
We laughed as we narrowly avoided photo-bombing other tourists taking happy snaps of each other with their iPads.
While not a food stop as such, I was pleased to get the chance to visit one of Auckland's volcanoes – we wouldn't have found the time otherwise. We spent just the right amount of time here, enough to take in the amazing view, enjoy the cool, crisp air and stretch our legs with a short stroll.
We visited Sabato, a fantastic gourmet food shop in the suburb of Mount Eden. They specialise in sourcing fine foods from small, often family-run suppliers from Europe, mostly Italy, Spain and France, many of which use traditional, artisanal methods to create their products. You can find New Zealand-made products and ingredients here too.
As soon as we walked in, we tasted sliced chorizo fried in a splash of Italian balsamic vinegar (tossed in the pan right in there in the shop as we watched) and were free to walk around the shop and sample products throughout the store, from cheeses to fresh bread spread with Lewis Road Creamery butter, chocolate vincotto (intense!), jams, oils and sauces, and one of my favourite tastes of the tour, garlic and herb salmon by local producer Salmon Man.
We tasted and bought the first souvenirs of our trip: porcini crema, a cream sauce made from porcini mushrooms with a rich flavour that made my eyes open wide, and sweet white garlic, crunchy like apple and mild-flavoured, not at all bitey like you'd expect garlic to be.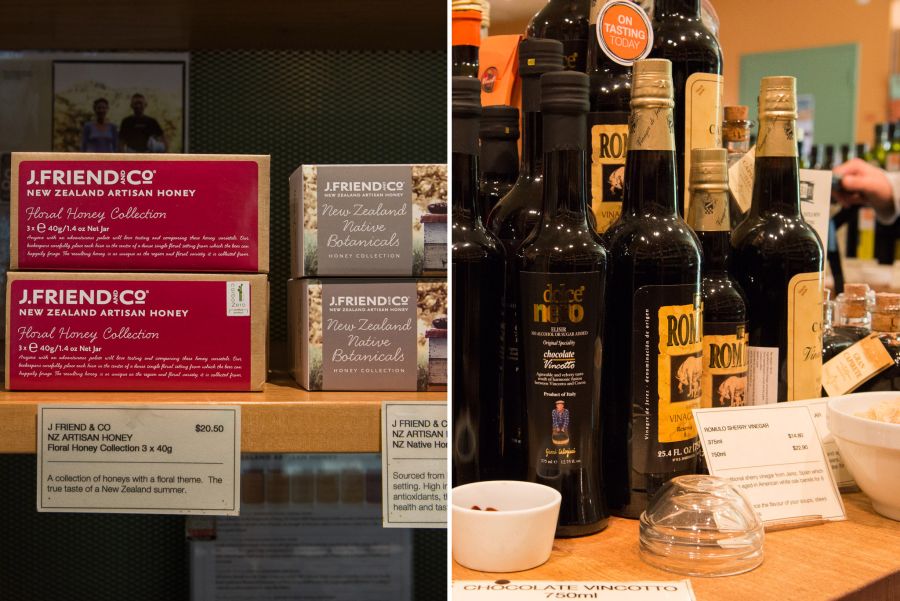 Now that's a deli counter!
Elle then took us to a bookshop called Cook The Books, a treasure trove for food-loving bookworms, with hundreds of cookbooks to discover and comfy chairs to sit in. Only thing missing is a bookshop cat.
There's a sunny courtyard at the back of the shop with a herb and veggie garden and a demonstration kitchen where cooking workshops are held regularly.
Displayed in the shop window, some vintage classics.
My favourite stop was the Auckland Fish Market. The Big Foody runs a separate tour that's dedicated to the Auckland Fish Market, starting early in the morning when the fish auction is in action. The Fish Market's more than a place to buy and sell seafood – there's the Auckland Seafood School too, where classes are conducted in a "Look, Cook, Eat" format: first, a chef gives a cooking demonstration, then the participants get to work recreating the dishes, and last of all, everyone sits down to eat and enjoy a complimentary glass of wine. We popped in for a look while a class was in progress – whatever they were cooking smelled pretty good.
We wandered through the fresh seafood market where many eyes stared at us from the ice.
I've only ever seen monk fish on British TV cooking shows. This is the first one I've seen in the flesh. What a face!
There's a wide range of smoked local fish for sale in the Market Seafood Deli, as well as ready-to-cook seafood meals and sashimi packs complete with soy sauce and wasabi.
Also in the Fish Market complex is Big Picture Wine, where we ventured into the Aroma Room and learned about the aromas of wine and discussed the different factors which contribute to a wine's bouquet. We then enjoyed an interactive wine tasting, watching a short film that virtually flew us over the stunning landscapes of six of New Zealand's wine regions, including Waiheke Island, where Jac and I would be heading in a few days' time. We tasted six wines while on the big screen the winemakers who created those wines tasted with us and shared their personal tasting notes.
Our tour ended with lunch, where our group shared a magnificent grilled seafood platter with snapper, prawns and mussels, along with a serving of chips.
Regular readers will know I'm not a mussel fan, but since we were in the land of the green-lip mussel, I ate one at lunch. This meaty morsel was flavoured with ginger and shallots, but no – I still don't like mussels.
We had a fantastic time on The Big Foody Auckland Tastebud Tour – it was a great way to kick off our holiday. Elle introduced us to the producers and shop proprietors and gave us an insider's look at the Auckland Fish Market – I'd love to come back for the Fish Market tour and attend the fish auction.
I recommend doing the Auckland Tastebud tour at the start rather than towards the end of your stay in Auckland – it brought us to places we didn't come across in the research/planning for our trip. As we travelled from stop to stop, Elle talked about Auckland and pointed out restaurants, food businesses and other places of interest in Auckland's thriving food scene, giving us more ideas for places to check out and making us wish we would be staying for longer. The tour was fun for us as tourists and first-time visitors to Auckland, but I can also see how it would be very useful if you'd just moved to Auckland.
The Big Foody Tours – Auckland Tastebud Tour
Driven tour
4.5 hours
A light lunch is included, with dietary requirements catered for
Suitable for all ages
NZ$165 per person
The tour route and activities may vary
Elle picked us up/dropped us off at our hotel
There were four of us on this tour (Jac, me and two other lovely ladies whom we met on the day) plus Elle, and we all travelled very comfortably in the car pictured. The Big Foody Tours does bigger group tours too.
New Zealand trip – blog series
There's more to come from our trip.
Posted so far (in reading order):
This trip to New Zealand was planned by Jac and me. We paid for all meals, accommodation and activities; the exception was 1 x return premium economy flight Perth to Auckland, which I received at an Air New Zealand launch event last year.Everything I blog about the trip is based on our experiences and all opinions are our own.
Facebook comments
comments