We grabbed dinner in Victoria Park before going to Chad's birthday party last Saturday night.
We wandered up and down Albany Highway looking for somewhere to eat. Stupidly on our part, we hadn't made a reservation anywhere, and as it turned out, most of the cafes/restaurants were fully booked. Whoops. In the end, we managed to get a table at Sebastian's Italian Cafe (851 Albany Hwy, Victoria Park). It was an outside table, but luckily we were next to a heater that blazed away and kept us comfortably warm. Chad's party was going to be held outdoors in her front yard, so we'd dressed very warmly – woolly jackets, scarves and gloves.
To start, we shared a serve of calamari fritti (AU$13.80). The batter was crispy and light, and the calamari inside was tender and not at all rubbery. The calamari had been seasoned very well and was really quite tasty, which was lucky as the tartare sauce was really bland (I believe Jac's described it as "insipid").
We also shared a serve of garlic bread (AU$3.30 for 3 pcs). It looked ok when it arrived, but we were to be bitterly disappointed.
I don't like writing really negative things about restaurants, but I couldn't write about our dinner at Sebastian's without mentioning this. I think someone really stuffed up in the kitchen, because I cannot believe an Italian cafe (well, any cafe!) would serve such terrible garlic bread. I'll say without hesitation that this was the worst garlic bread I've ever eaten in a restaurant. The bread was untoasted and unbuttered on the underside, cold and unappetisingly spongey. To be honest, the buttered side wasn't very nice either – barely a hint of garlic flavour. It was as if they'd toasted the bread without buttering it at all, then buttered one side with not very garlickly butter, sprinkled a little chopped parsley and served it. An utter disappointment. I know that probably sounds melodramatic but I was incredulous – how could a cafe botch up garlic bread so badly?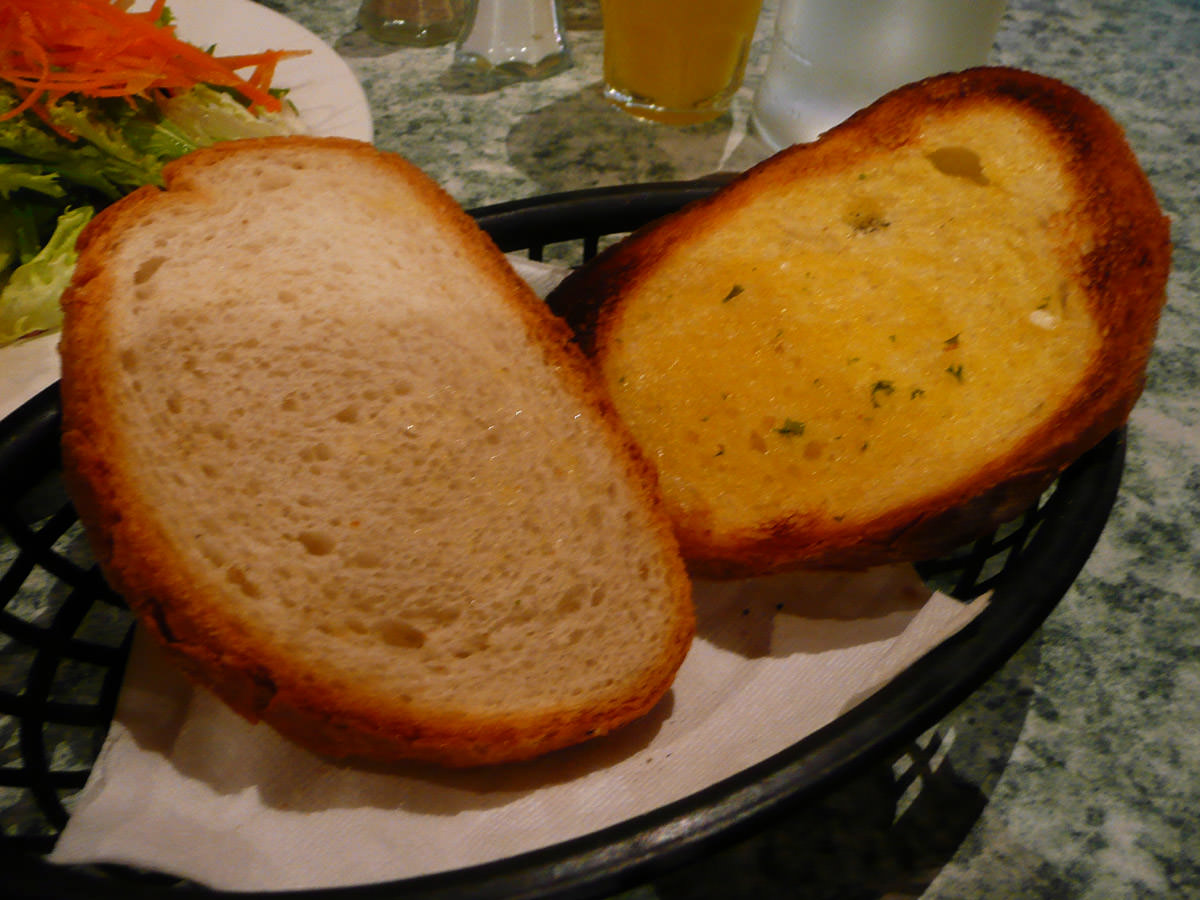 Thankfully, our main courses were better. Jac's veal marsala (AU$21.80) looked great – the panfried veal medallions and mushrooms were were served in a cream sauce flavoured with sweet marsala. The menu described the veal as "melt in the mouth" – it was mostly tender, but a few pieces were quite chewy and even sawing through them with a knife proved difficult. Overall though, Jac really enjoyed this dish and said she'd happily order it again. She always loves meat in a cream sauce.
I had ordered the cotaletta milanese (AU$21.80) – crumbed veal cutlet, which came with a choice of salad and chips or spaghetti bolognese. I stuck to the Italian theme and chose the spaghetti. The veal arrived on a generous mound of spaghetti, garnished with chopped parsley and powdered parmesan. I'm not so keen on powdered parmesan. I don't care for its smell, flavour or texture.
The veal was tasty, deliciously golden brown with extra crispy edges. Like the veal in Jac's dish, there were sections of the cutlet that were difficult to cut through with a knife. Not enough tenderising, methinks.
The spaghetti bolognese was really good – the spaghetti cooked perfectly al dente, the sauce nice and meaty – Jac tried some and liked it so much she kept digging into it with her fork to grab more. I really liked it, but all the meat made the dish quite heavy. I reckon the dish would be better balanced if the pasta choice to go with the veal cutlet was plain old spaghetti napolitana instead.
Apart from the ludicriously bad garlic bread, we enjoyed our meal at Sebastian's. The service was pretty good – I don't tend to like sitting outside when the majority of patrons are seated indoors, because staff can tend to forget the outside tables, but at Sebastian's we weren't forgotten. We were given menus and offered drinks shortly after we sat down, we didn't have to wait long for the food to arrive, and our plates were cleared promptly when we were done. Next time we eat at Sebastian's we'll make sure to book so that we can get a table indoors. I don't think I'll be game to order garlic bread again, though.
We had a lovely time at Chad's, celebrating her 30th birthday. SRM came too, and Jac enjoyed meeting him for the first time. There were great nibblies and chocolate cake and even homemade sausage rolls fresh out of the oven, which I managed to find a little tummy room for! :-P
Facebook comments
comments